Budget Summary for October, 2002 Policy Committee
Joanne Graham
FY02
Combined Budget Picture
UCAR's year-end is incomplete at this time, but we expect final expenditures to break down approximately as follows: 
Funding Source

FY02 New Funds

FY02 Total Funding

Est. Expenditures  YE

Carryover to FY03

 FTE by Funding Source

Percentage of Total Funding

DODS OpenDAP

$176,538

$284,345

$133,199

$151,146

      1.05

6%

Equipment Grants

$95,942

$103,200

$0

$103,200

          -  

2%

Indirect

$71,043

 

$71,043

$36,769

$0

      0.40

2%

Case Studies

$108,001

 

$167,340

$98,112

$69,227

      0.75

4%

THREDDS

$450,000

 

$450,000

$420,392

$29,607

      1.60

10%

NFS Core

$3,004,083

 

$3,512,941

$2,971,133

$541,807

    18.60

77%

Grand Total

$3,905,607

 

$4,588,870

$3,659,607

$894,989

    22.40

100%
The total funding column shows all funding by source including committed and uncommitted carryover.
*THREDDS was funded in advance in FY01 for both FY02 and FY03.  In order not to skew the total percentages of funding and expenditure, I removed FY03 from this picture, since the intent was for us to cover two fiscal years with one shot of money. 
When total funding exceeds new funds in the fiscal it indicates a carryover from previous years.
Case Studies funding ended in FY02.  We have carryover for FY03 to finish out a modest effort and keep staff devoted to that effort employed through the fiscal year.
DODS OpenDAP funding and the DODS OpenDAP performance period end in March, FY03.  We are seeking a no-cost extension to carry us through the fiscal year.  Other sources of DODS funding are being sought by URI.  We hope to know more about this prior to the spring contract end-date.
NSF Core Funding
We received 3,125,000 from NSF in FY02.  We reserved 103K  for equipment grants in hope that we can fund the anticipated "bow wave" of proposals once the proposal is funded.
Original expenditures for the fiscal year (after staffing changes were taken into account) were anticipated to be around the 2.95M range.  I expect we will finish the year just slightly above that number. 
Of special note:  In FY02 we were down almost 2 full-time FTE originally budgeted, but we still came very close to spending all new funds received in this funding category.
Carryover into FY03 is expected to be just over ˝ million dollars, though 200K of that is currently being held aside for large equipment expenditures which we were unable to adequately define prior to year-end.
FY03
Combined Budget
Following is a very preliminary look at possible funding and expenditures for FY03.  Keep in mind that it is too early to have budget information from NSF.  This scenario is based on flat NSF funding in FY03.  Additionally, we will need to spend out and close all other funding sources in the fiscal year due to contract requirements.  We are actively seeking other outside funding, especially for the continuation of DODS OpenDAP and some of the core initiatives mentioned in our next five-year proposal.  It is much too soon to project if any of those will be successful, or what the impact might be at this time.
Funding Source

 FY03 New Funding Estimate

 Total FY03 Funding

 Anticipated SBO* Expenditures

 Anticipated Other Expenditures

 Total Anticipated Exp.

 Potential Carryover to 2004-2008

 DODS OpenDAP

                 -  

      151,147

 

         135,235

          15,911

     151,147

                -  

 Equipment Grants

      100,000

      203,200

                 -  

   -

     203,200

                -  

 Indirect

        72,000

 

        72,000

           54,189

          17,811

       72,000

                -  

 Case Studies

                 -

  

        69,228

           62,087

            7,140

       69,228

                -  

 THREDDS

      450,000

 

      479,608

         252,871

         226,737

     479,608

                -  

 NSF Core

   3,000,000

 

   3,541,808

      2,544,875

         891,476

   3,436,351

     105,457

 Grand Total

   3,622,000

 

   4,516,990

      3,049,258

      1,159,075

   4,411,532

     105,457
*SBO = Salary, Benefits, and Overhead.
Following is an FTE by funding source chart for FY03 (total staffing is 24.51):
<![if !vml]>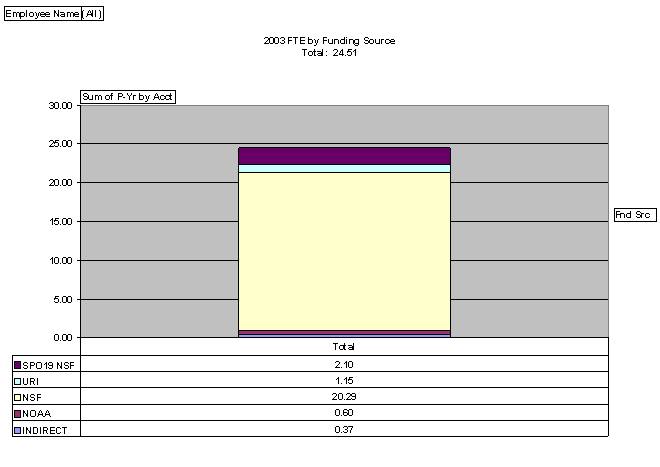 <![endif]>
NSF Core in 2003
Assuming at least flat funding in FY03, UPC looks to be in good financial health through FY03.  Our FTE rate is up from FY02 due in part to bringing on a new director for most of the year, and because some positions filled late in the fiscal year will be on board for the entire period.
Note from the first FY03 table that we are anticipating expenditures to exceed funding by FY03 year-end. Again, this is very preliminary.