In case you missed it — here's a wrap-up of news from the Unidata Program Center for the month of February, 2012.

The Unidata Program Center is hiring! We are looking for a software developer to join our team in creating and maintaining software and data services to support the geosciences — primarily as part of the THREDDS group working on the netCDF-Java and the THREDDS Data Server (TDS) software.
For many in the Unidata community -- including Unidata Program Center staff -- the annual American Meteorological Society meeting is a whirlwind event that leaves attendees sorting through new ideas for quite some time after the conference itself has ended. We were gratified that so many community members stopped by Unidata's booth in the exhibit hall to catch up on the latest developments or just talk. But rather than try to touch on everything that happened, here we present some recollections of the meeting from UPC staff members who attended, in no particular order.

NetCDF-Java/CDM version 4.3.8 is available as a development (beta-test) release. Makes significant improvements to the handling of GRIB files, along numerous other enhancements.

The Integrated Data Viewer (IDV) version 3.0 update 2 is available now.



Version 4.0.9 of the netCDF Operators (NCO) has been released.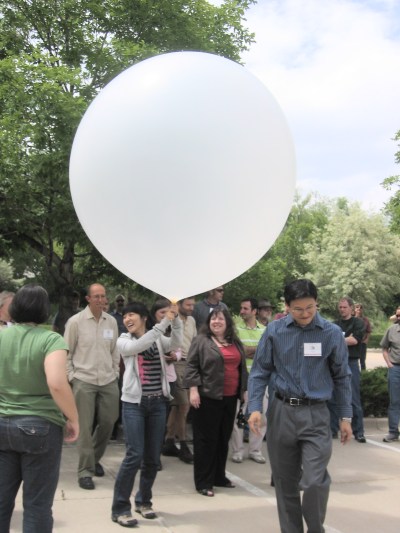 The Unidata Users Committee invites you to join Unidata staff, community members, and distinguished speakers for the 2012 Unidata Users workshop. The goal of this year's workshop is to raise awareness of data science in the geoscience academic community and share hands-on activities, course materials, and ideas for improving research and education.
Residents of Boulder, Colorado are familiar with the Chinook winds that bring warm, dry air down from the mountains to the west of town. To composer and musician Nathan Hall, however, the Chinook represented a source of musical inspiration as well. With the help of NCAR and UCAR staff including Unidata Program Center scientist Jeff Weber, Hall used weather data from the Boulder area as the basis for a 7-minute composition and video titled, fittingly, "Chinook."
Professors and students from the departments of Computer Science and Earth Sciences at Millersville University are using Unidata's Integrated Data Viewer (IDV) as the platform for an application to let students explore meteorological data in three dimensions.

The Unidata Program Center is pleased to announce its 2012 Software Training Workshop. The workshop features our display and analysis packages GEMPAK (with an introduction to AWIPS-II) and the IDV, data access and management tools, the Local Data Manager (LDM), the Network Common Data Form (netCDF), and the THREDDS Data Server (TDS). The dates for the workshop are from October 22nd through November 7th.