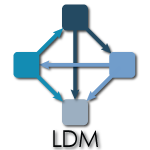 The Unidata Program Center is hiring! We are looking for a scientific software developer to join our team in creating and maintaining software and data services to support the geosciences.
As part of the University Corporation for Atmospheric Research (UCAR) in Boulder, CO, Unidata offers competitive salaries and great benefits. UCAR was selected as one of the Best Companies to Work For in Colorado. Simply put, Unidata is a great place to work. Unidata's team environment provides high levels of autonomy and responsibility with great opportunity to excel individually and contribute to the team's success.
We are looking for a software developer to help us help our community of scientists access the Earth system science data that fuels their research. You'll have a chance work with a great team at the Unidata Program Center and and enthusiastic open source community to test, maintain, and develop Unidata software projects, focusing on our open source efforts related to the Unidata's Local Data Manager (LDM) software package and community use of the LDM via the Internet Data Distribution (IDD) system.
Specifically, you will:
Assist in the development and community use and deployment of the LDM software package
Employ a working knowledge of software engineering practices in version control, build systems, release management, unit testing, continuous integration, and defect management
Collaborate with community users on remote installation and troubleshooting of LDM/IDD issues
Advise and resolve community support inquiries about the installation, configuration, and use of the LDM
For a detailed job description see the official posting.
Note: UCAR's career site lists a final date for the posting but adds "or until a sufficent number of applications have been received." If the official posting is still visible at the above link, please consider sending your application!
For more information on UCAR and the application process, visit:
https://www.ucar.edu/opportunities/careers