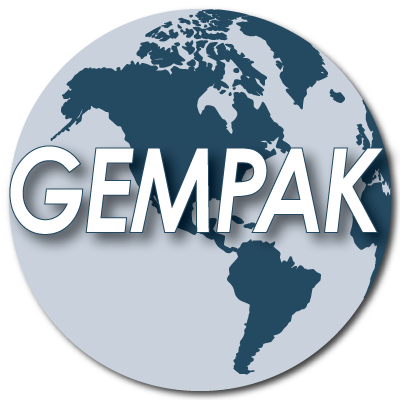 In March of 2021, the Unidata Program Center made the community aware that it no longer had software development resources available to support the continued use and evolution of GEMPAK. Following discussions with community members, Unidata published A Proposal for Community Support of GEMPAK, laying out some history of the package and the support situation, and proposing a way forward.
At that time, long-time GEMPAK user Daryl Herzmann of Iowa State University offered to take the lead in coordinating community-based efforts to continue making GEMPAK available. In the intervening months, Herzmann and other community members have worked to identify ways to synthesize Unidata's existing GEMPAK codebase with updated code from the National Weather Service (NWS). Although the NWS remains committed to moving all operational forecasting activities to use the Advanced Weather Interactive Processing System (AWIPS), developers at the National Centers for Environmental Prediction (NCEP) continue to make changes to the NAWIPS package, as GEMPAK is known in the NWS.
Recently, Herzmann made GEMPAK version 7.14.0 available, bringing the package in line with the latest updates to NAWIPS. That version is available from the GEMPAK repository on Github.
To summarize the current situation:
GEMPAK is no longer being actively maintained or supported by the Unidata Program Center.
GEMPAK distributions created and maintained by community members are available from the GEMPAK Github repository, hosted by Unidata.
Unidata will continue to host and maintain the gembud mailing list as a service to community users of GEMPAK:
GEMPAK downloads can be accessed at: https://github.com/Unidata/gempak/releases
Community members who wish to contribute development or other efforts to the GEMPAK project should visit https://github.com/Unidata/gempak.
GEMPAK Downloads from Unidata Discontinued
Unidata has been hosting downloads of compiled GEMPAK binaries for version 7.5.1 — released in February 2019. This was the last version we had development resources available to create. While using the most recent version (7.14.0) does require the user to build the package from source code, Unidata now feels that the binary version we have available is too old to continue distributing. GEMPAK version 7.5.1 binaries have been removed from Unidata's download server.
Note that version 7.5.1 documentation continues to be available on Unidata's documentation server: GEMPAK Documentation. While Unidata has no plans to update this documentation set, it remains useful.