16.1 What are Groups?
NetCDF-4 files can organize variables, dimensions, and attributes in hierarchical groups.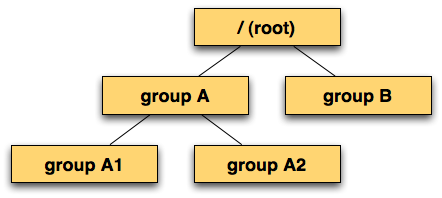 Groups are like directories in a file system, except they are all within a file.
Group IDs are analogous to netCDF IDs. In programs, the IDs of all groups in open files are distinct, and depend on the order in which files are opened. So group IDs may differ between different openings of the same file.
Every file contains at least the root group. The ncid of the root groups is returned on an open or create.
Groups (other than the root group) are part of the enhanced model. Using groups means that netCDF software linked to a netCDF-3 library will not be able to read the file.
Use of Groups is optional, with backward compatibility maintained by putting everything in the top-level unnamed Group.
A "global" attribute is now global to the group, not the file.
Recursion is one way to handle nested groups. The nccopy utility uses a simpler way to iterate through all groups in a netCDF file.
Unlike HDF5, netCDF-4 requires that Groups form a strict hierarchy.
In netCDF-4, dimensions are scoped such that they can be seen in all child groups.





2011 Unidata NetCDF Workshop > Using Groups and NetCDF-4 Types